GAC In-Ovation Braces
---

GAC In-Ovation Advantages
Now you can look your best and feel confident about your smile during your treatment — as well as after. That's because In-Ovation is smooth and has a lower profile than other self-ligating braces. Plus, there are no elastic or metal ties! This means you have less irritation, less plaque build-up and less difficulty keeping your teeth clean.
In-Ovation does not just straighten teeth, its unique Interactive™ technology allows your doctor to gently achieve the precise results needed for optimum facial proportion and aesthetics. In-Ovation system braces gives people good reason to smile!
Benefits of In-Ovation:
Faster results
Shorter appointments
Fewer office visits
Greater comfort
Improved facial proportion and appearance
---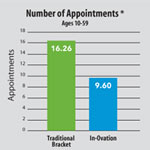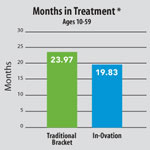 In-Ovation averages 40-percent fewer appointments than traditional brackets with ties.
In-Ovation finishes equivalent cases approximately 4-months sooner than traditional brackets with ties.